Like GDrive and Dropbox, OneDrive makes it really easy for users to work on the same document across different computers, as well as with colleagues. Here are some best practice tips for making Casedo fit seamlessly into your OneDrive workflow.
In summary, there are three aspects to getting this right
Avoid conflicts
Get your settings right
Make sure that files have synced with OneDrive before opening them elsewhere
Avoid conflicts
Like traditional Microsoft Office and Apple Office products (Word, Pages, Excel, Numbers and so on), Casedo can only be used by a single user at a time, and conflicts are created if two users try to open the files together. This is particularly easy to do using the above cloud storage solutions so it is important to make sure that Casedo is only opened by a single user at any one time.
However, if this does happen, there shouldn't be any data loss. As with the other document formats mentioned above, Casedo will create a second renamed 'conflicted' copy.
N.B. We have an innovative sharing solution on our todo list and will update you as and when it becomes available
Get your settings right
Casedo .case files can be big. It's easy to find yourself working with a 2,000-page Casedo file that is around 150mb in size. Even with a great internet connection, this can take a while to upload. Understanding how OneDrive works and adjusting the settings accordingly will help you avoid any odd behaviour that Casedo might exhibit as it tries to keep up with the uploading process.
Firstly, how does OneDrive work?
By default, a document stored in OneDrive is stored as an 'online-only' file. That means that though it looks as if it's in file explorer, it is in fact stored online. Once it is clicked it becomes 'locally available' and will be downloaded to the local folder. However, after a time it will revert to 'online-only' and will thus save space on your computer. There is a third option, which is to set the file to be permanently stored on your computer, though it is still synced. So the only downside of using this third option is the space it takes up on your computer.
To recap, there are three storage settings for your files in your local OneDrive folder, the following is taken from the Microsoft website (the full article can be found HERE).
This is what they look like in the Windows File Explorer: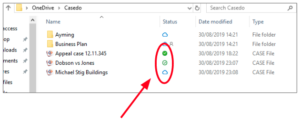 We've found that using this third option works best with Casedo. To change your files to this setting, simply right-click on the file in question and select "Always keep on this device."
You can always change the settings back at a later date. For example, you may not be using a particular .case file anymore and want to save space on your laptop. By setting to one of the other two settings, it will still be available, but not taking up any room on the local hard disk.
Make sure that files have synced with OneDrive before opening them elsewhere
It's well documented that OneDrive can have trouble syncing large files and gets stuck processing them (you can find more information HERE), so it's always worth checking that your .case files have synced fully when you exit Casedo. Doing this will mean that when opening the .case file on another computer, you can be confident that it is the most up to date version. It's very simple to do this. When you have exited Casedo, select the white or blue OneDrive cloud icon in the notification area, at the bottom right of the taskbar.

This will show the list of all files being synced or have recently synced, this is called the "OneDrive Activity Center", if the top of the Activity Center is blue, everything is good to go, if it's red there is an issue. It could be that you just have to wait for the syncing to finish, or it could be that you need to pause or restart OneDrive because it's got stuck, see the above-linked article for more details (or just click HERE for the same article).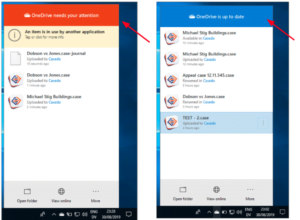 Once you have the restarted OneDrive it should come up blue. Once OneDrive is up-to-date, then and Casedo files you have in your local OneDrive folder with be synced in the cloud.