Much like OneDrive and Google Drive, Dropbox offers one central hub for online file storage, file sharing, and syncing. Your files will be synced across your devices and accessible in real-time. You will be able to access your Dropbox account with desktop apps on Windows and Mac, our mobile app for iOS or Android devices, and on the web through your browser.

Click HERE to know more about dropbox.
Click HERE to know more about the differences between Cloud Storage and Cloud Backup
Here are some best practice tips for making Casedo fit seamlessly into your Dropbox workflow.
In summary, there are three aspects to getting this right
Avoid conflicts
Get your settings right
Make sure that files have fully synced with Dropbox before opening them elsewhere
Avoid conflicts
Like traditional Microsoft Office and Apple Office products (Word, Pages, Excel, Numbers and so on), Casedo currently can only be used by a single user at a time, and conflicts are created if two users try to open the files together. This is particularly easy to do using the above cloud storage solutions so it is important to make sure that Casedo is only opened by a single user at any one time. In future, we'll be introducing multiple user sharing, but this has yet to be implemented. However, if a conflict does happen, there shouldn't be any data loss, one user will be lockout of the Casefile or a duplicate file will be created.
Get your settings right
Casedo Casefiles can be big. It's easy to find yourself working with a 2,000-page Casedo file that is around 150mb in size. Even with a great internet connection, this can take a while to upload. Understanding how Dropbox works and adjusting the settings accordingly will help you avoid any odd behaviour that Casedo might exhibit as it tries to keep up with the uploading process.
Firstly, how does Dropbox work?
Dropbox is an online software solution that manages digital documents for both individuals and teams. Dropbox offers various cloud storage options. Using Dropbox for cloud storage lets you store everything safely in the Cloud and access file uploads from multiple devices. You can store documents, images, videos, and even back up your entire PC. The service makes it easy to transfer files from one device to another without having to email them to yourself. So, when you add a file to the Dropbox, it will be uploaded to your Web drive. With Dropbox, you can work on files while offline, from your desktop computer, Android, iPhone, or iPad. Once you get back online, your files and folders will automatically sync with any edits you made when you weren't connected.
Starting at 2 GB of space for free if you're looking to store or share a few files for a quick project. The following is taken from the Dropbox website (the full article can be found HERE).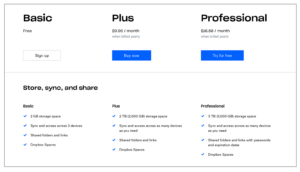 Make sure that files have synced with Dropbox before opening them elsewhere
With dropbox, the Casedo files will need to be set up as 'Local' not 'Online only'. This is because Casedo files can sometimes be very large, and if Casedo files get synced online, it will affect the Casados performance as your casefile will keep syncing online and not locally.
You can sync locally in 2 simple steps:
1. Right-click on the desired files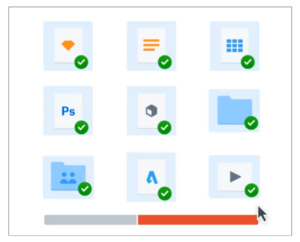 2. In the options find and choose 'Smart sync'
3. Click on 'Local'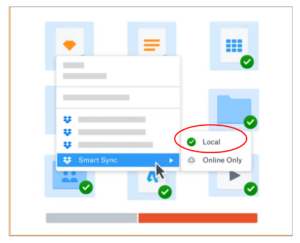 This is how your Casedo files will look like in Mac OS when fully synched:
This process will allow you to keep your Casedo files stored locally in your computer and avoid it being on the cloud. With Smart Sync,  you will be able to view your casedo files – in your file explorer, just like regular files.
If Dropbox sync is working correctly, you'll see the same files on each computer, phone, or tablet you use to access Dropbox (as long as you've signed in with the same account on each device). If you're not seeing the same files, or if sync fails to complete, you're likely experiencing a sync issue.
Before you start:
In the Dropbox folder on your computer, a green check means a file is fully synced, a circular blue arrow means the file is in the process of syncing, and a red X means the file isn't synced. This article will only address cases where you're seeing the red X.
If you're seeing a specific error message, check out this list of explanations instead. If you're seeing a general problem with files not syncing, continue reading.
There are many ways to fix the syncing problem. You can find more information on how to resolve this issue HERE.  The Dropbox sync error should get resolved by using one or more of the methods mentioned.