With Casedo, you can split your documents throughout your bundle and rename each file as you wish.
Splitting your documents enables you to break up your files and separate them into smaller sections. You can choose to split your document to be moved independently of the rest or to insert pages in between documents.   To split any document, simply hover around the blank space between your pages, then click the Split Document icon located on the right-hand side of the document.
This will instantly split the document at the place selected, and the split document will pop up in the Index as a separate file. You can also easily rename it.
This will now enable you to see the new file on the index bar, as shown below.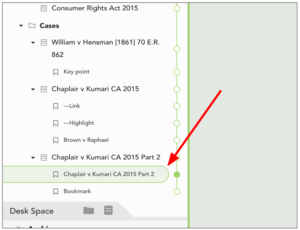 Please refer to the tutorial below:
Note: If you want to rename your file, double click on the file in your Index bar and rename it.    Note: You can also merge your documents. Click HERE for more information.