Once you've downloaded and installed Casedo, you're ready to open it for the first time.
If you're having any trouble with the installation process, or with any of the steps outlined in this article, take a look at these articles.
1. Enter your license key
When you signed up with Casedo, you were issued a license key (sometimes known as a subscription key), which looks something like this
88936409-83664D2F-B69DHBU6-7CD18B36
Double click on the Casedo icon on your computer to open the application. The first time you do this you will see the following screen:
Enter the license key in the space provided and check the appropriate boxes. When you're done, click Activate.
2. Add your User Details
After you've first installed Casedo you'll see the following screen when you first open the application:
The User Details have a single purpose – to identify the user of a currently open Casedo casefile. If you try to open a casefile that is already in use, Casedo will warn you and let you know who is currently using the casefile. For more information, read this article.
Fill in your contact details and click Confirm.
NB If you need to update your User Details in future, you can do so by going to the Help menu and selecting Application Data > Edit User Details
3. Casedo is now ready to use
When you've completed the above steps, Casedo will look like this: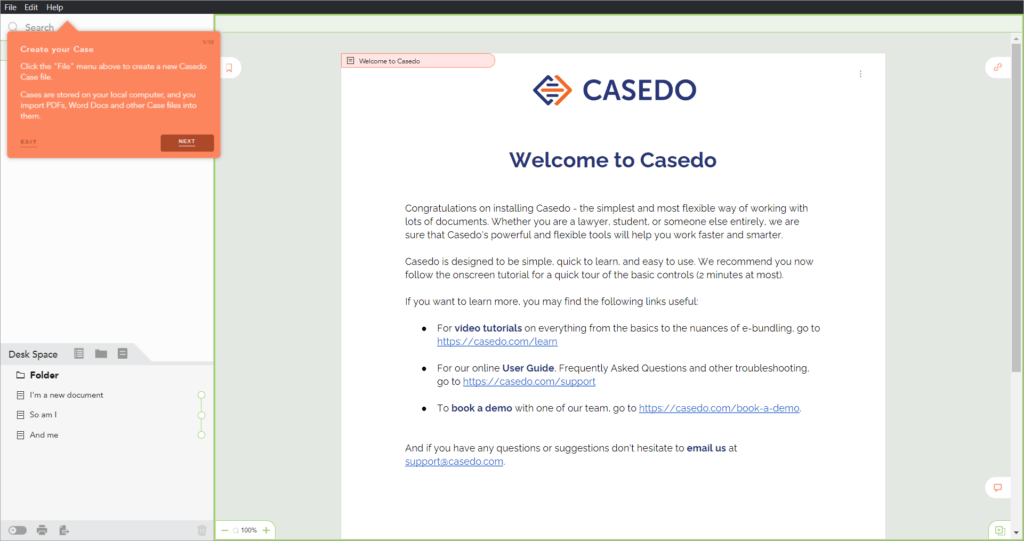 You can follow the twelve step tutorial in orange (you can reopen it at any time) and/or take a look at the very short document!