The 'go to page' feature is located at the top left of each Document View. Instead of scrolling to find what you're looking for, you can use this function to easily go to any selected page in your document.
To do this:
Make sure that pagination is turned on.

At the top left side of each Document View, you will see 'Go to page'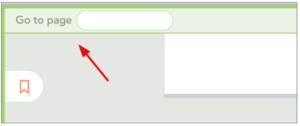 Click in the empty box next to it and type any number you want and click 'Enter'.
If you have both Document Views open, you can move between the Go to page boxes by using the TAB key.
Also, you can also use the keyboard shortcuts to go to any page, this is done by pressing Mac ⌘ + g, Windows Ctrl + g, then simply put down the page number and press enter.