How to create a court bundle in Casedo
NB. This article is relevant to Casedo v1.2.0 and does not include the Table of Contents feature released in v1.3.0. However, this article does show in more detail how the extensive pagination feature in Casedo works. This article will soon be updated to include all the new features in the latest version.
First and foremost in order to create the following court bundle, you will need to turn on your pagination, this feature allows you to navigate through your casefile easily and effectively.
By turning on the pagination, casedo numbers all of your pages according to the organisation of your documents.
To turn on the pagination simply click on the toggle switch as shown:

After it is turned on, it should look like this:
You will now realise that your pages will all be numbered as shown:
Creating a Court Bundle
To illustrate how we are going to create a court bundle, using pagination:
1. Create a new case file
Firstly create a new casefile by clicking on the new case located in the file menu on the toolbar. You can save that for example as 'XXX Authorities bundle' or however you like.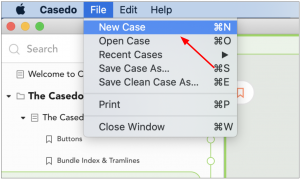 This will open an empty Casedo casefile.
2. Open index document
Find the Index Document. This is a document (a document of authorities) which you might have been sent by a solicitor or a barrister on the other side of the case. You can import that to the top of your Casedo Index, and those will be the documents you will want to create.
3. Import your documents
Next thing you want to do is import the files stated in the Index Document. After having imported all of these files, they can be organised appropriately.  Dropping the cases under a "Cases" folder, and legislations under a "Legislations" folder.
You can now also import documents with their attached bookmarks.
To do this simply:
Import your PDF file as you would normally import
2. Choose your bookmarked PDF
3. Turn on the toggle switch for "import all bookmarks" and press "done".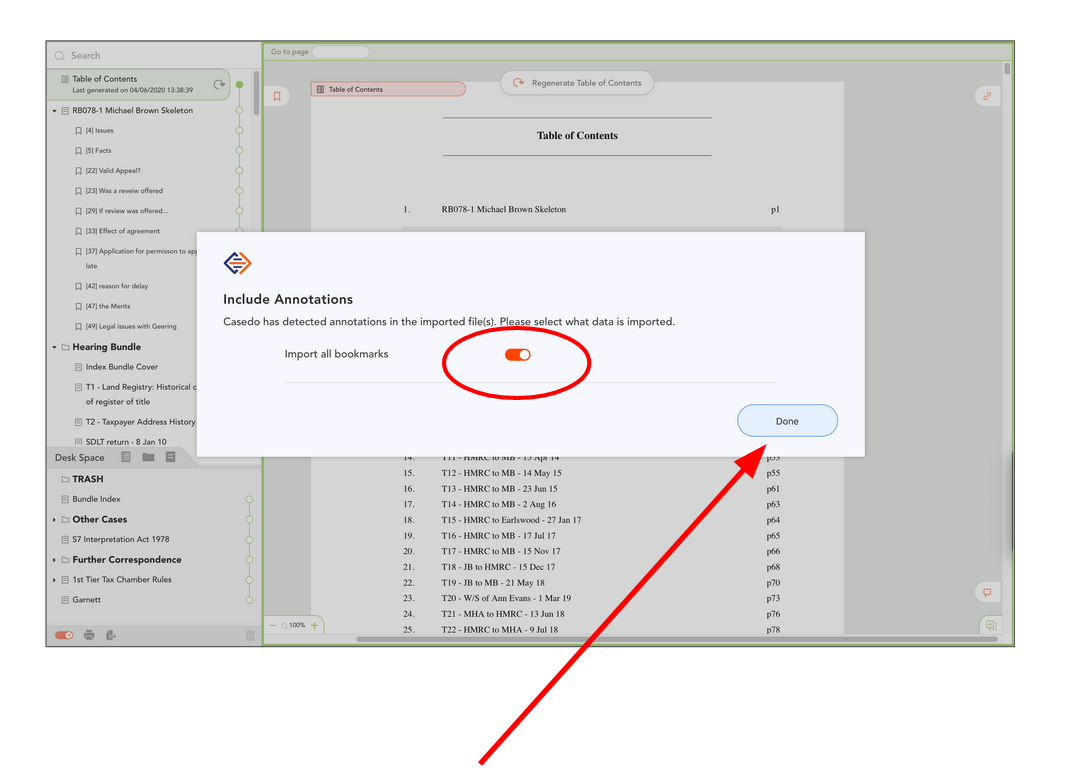 4. You will now be able to see your  imported PDF with the bookmarks in your deskspace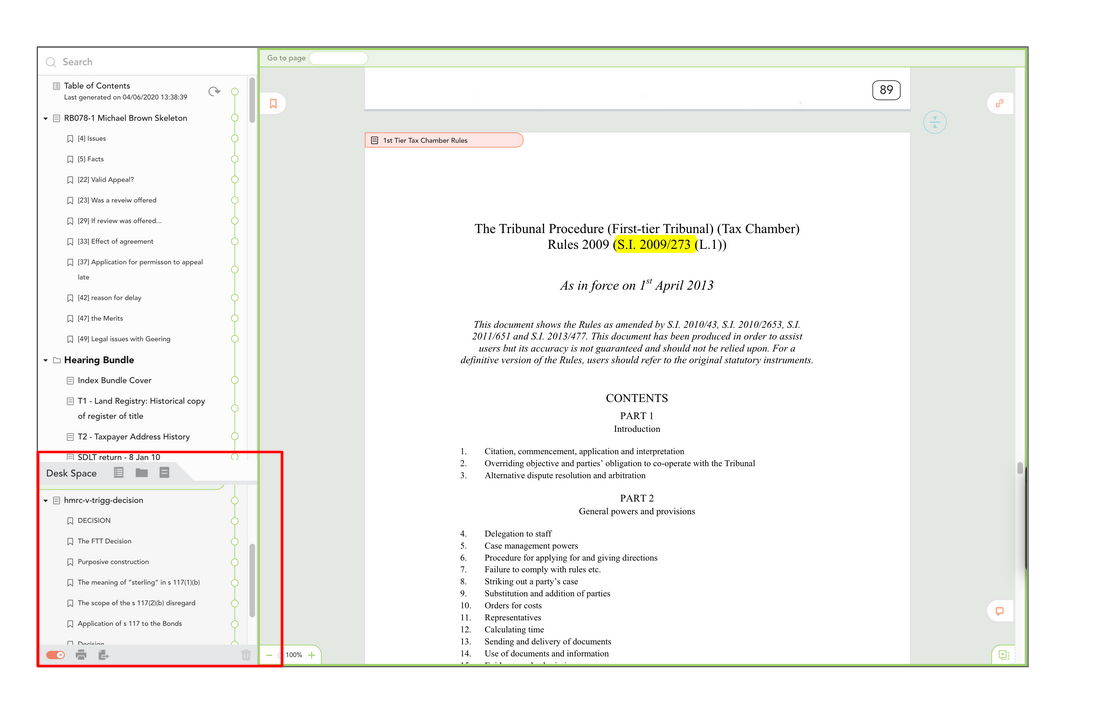 4. Add tab numbers
As you go along, you can add the tab numbers to your files in the specific order your index document (Authorities bundle) tells you.
To do this simply, rename your imported folders in the same order the authorities bundle has specified. For example, if the "Autologic plc v IRC [2006] 1 AC 118" is numbered as 12, then simply rename your case in the index side as "12 – Autologic plc v IRC [2006] 1 AC 118". This will make it easier to navigate.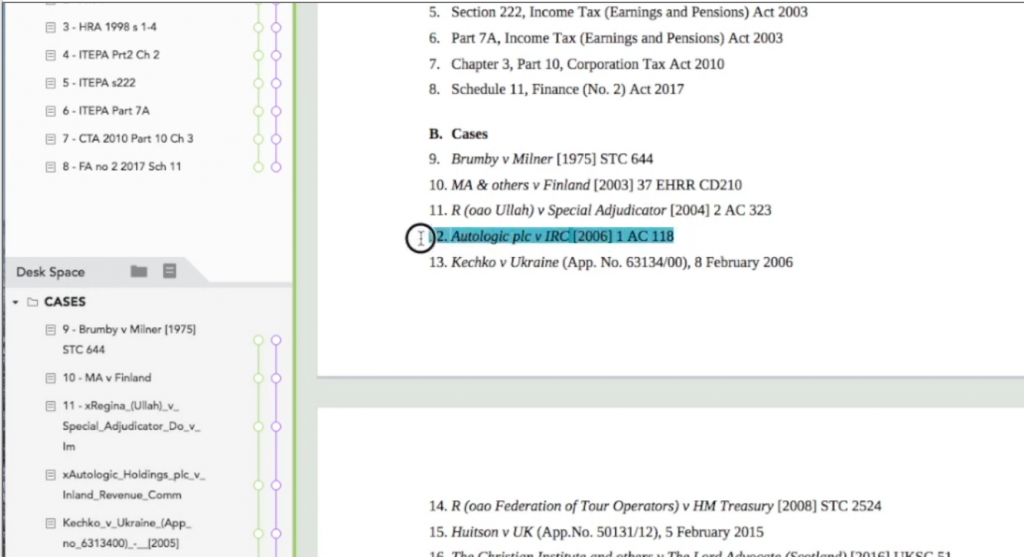 You will now see that you have a folder for all the Legislations, organised in the manner the index document states.
5. Turn on the pagination
There are three ways in which you can choose to paginate your documents.
a. Exclude pagination
You can see that when the pagination is turned on, the numbering starts from the very first page, sometimes you might not want that. You might need your pagination to start from a specific document rather than starting from the very first page which in this case is the index document.
In order to avoid this, after having turned on pagination, right-click on the index document and choose the "Do not paginate" option. As shown: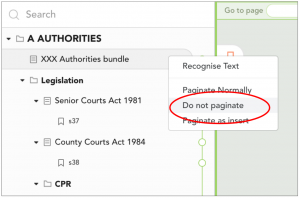 By clicking that the chosen index document will not be paginated, and numbering will start from the page of your choice.
An excluded document from pagination is indicated by a minus sign (-).
b. Folder based pagination
However, it is normal practise to paginate cases separately to legislation. You might want to have two separate files. For example, you might want to have a bundle A for legislation and a bundle B for cases authorities. To do that go to the main menu, select Edit > Toggle Pagination Type'.
This takes the top level folders and assigns them a letter, as shown below.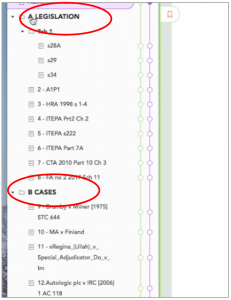 Everything in that folder separately gets assigned a prefix. For example now the content in the A folder will start from A1 and the content in the B folder will start from B1. As demonstrated below.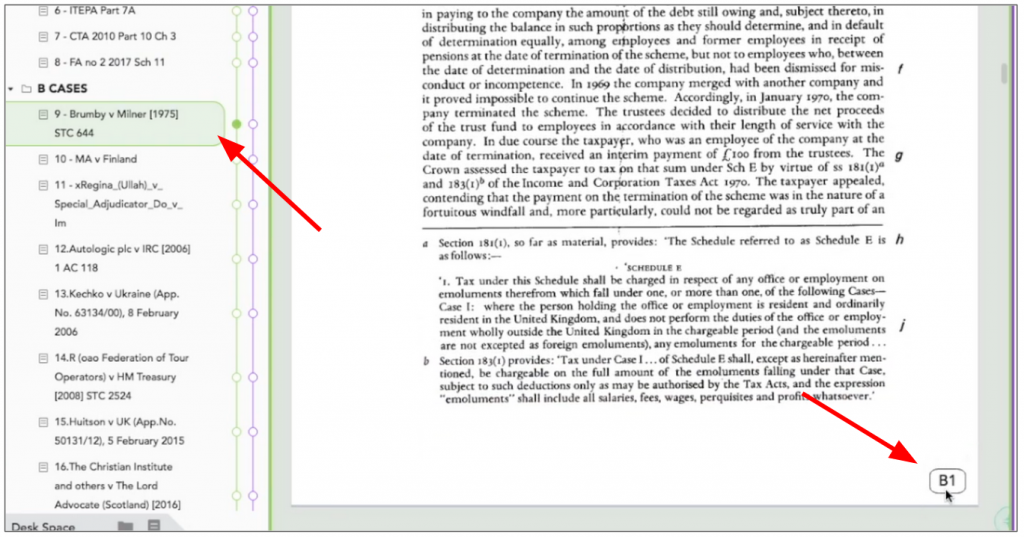 And if you no longer want that you can simply press on the 'toggle pagination type' and this will take it back to the original pagination style.
c. Insert Pagination
Also, If you have forgotten to add something in your casefile, it is equally as easy as correcting that mistake. Simply import your file and place it anywhere in your bundle and it will be automatically paginated. However, if you want your file to be added as an insert, meaning you don't want to upset the existing pagination, simply right click on that folder and click on Paginate as an insert.
This will give this document a 'point reference' page number, for example A12.1, as shown: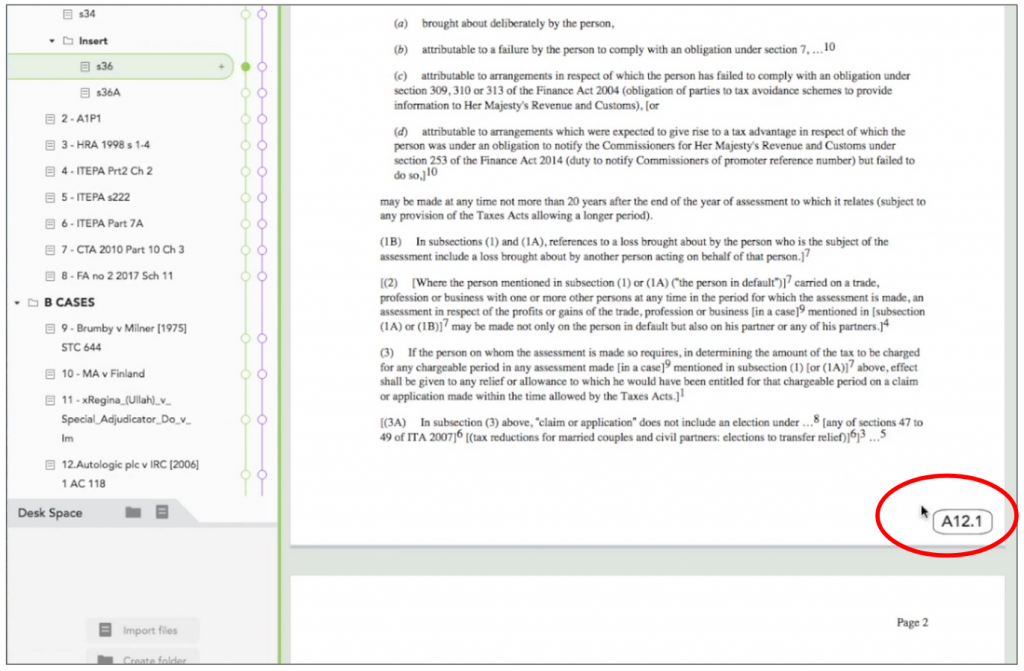 You can repeat this as many times with any other document.
Paginated inserts are indicated by a plus sign (+) in the Index.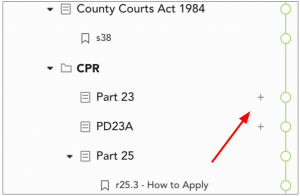 6. Create a table of contents
After having paginated your casefile,  you can create a table of contents. This means that Casedo will automatically generate a folder to include all of the titles of your files and folders commenced with their page numbers.
To do this simply:
1. Press the "create a table of contents" located in your desk space.
2. This will generate a table of contents file into your desk space.
3.  Simply drag and place it at the top of your casefile (or anywhere else you want), and it should look roughly like this.
N.B. If you change the contents of your casefile, then simply press the 'redo' button located next in your index, or on top of  the folder in the document view.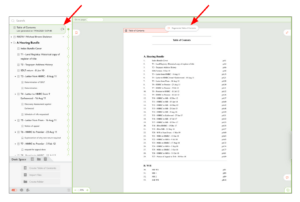 7. Full bundle
After having imported all your cases and legislations, renamed them accordingly, and created a table of contents for. You will have a complete bundle fully paginated and with pagination starting from the first legislation or tab 1, and extending all the way through. You will also have a table of contents to refer back to and navigate quickly to whichever file/folder you want. These features will also enable you to track at what pages your cases start, or your legislation. For example, you will now know that your authorities start on page 210.
8. Export as PDF
After having a full bundle you can also export your casefile as a pdf, this feature enables you to export all of your bookmarks created to an external document reader and/or export for double-sided printing.
Simply do this by:
1. Click on the "Export" button located in the desk space.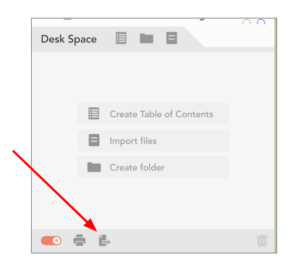 2. You will get a pop up to give you options to annotate your PDF
3. To simply export your pdf to include all of your bookmarks, only turn the toggle switch for "Export all bookmarks"
4. To export your pdf without any bookmarks, but for double-sided printing, turn the toggle switch for only "Export for double-sided  printing"
5. To do none, but simply export as a PDF, turn the toggle switch off for both of the options, and vice versa.
9. Print
Now that your bundle is ready and paginated. You can now simply hit print, and send that to the printer, and you're done.
Other useful features
Casedo now also has the 'go to page' feature which allows you to go to any page very quickly without having to scroll down. You can find that at the top left of your Document View if the pagination is enabled. This feature is compatible with the pagination system we have explained above. So you can now simply type for example A18.4, and it will take you directly to that page.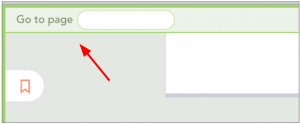 You can repeat this process in both viewers of your case files separately, allowing you to quickly and efficiently be at two different parts of your casefiles at the same time.