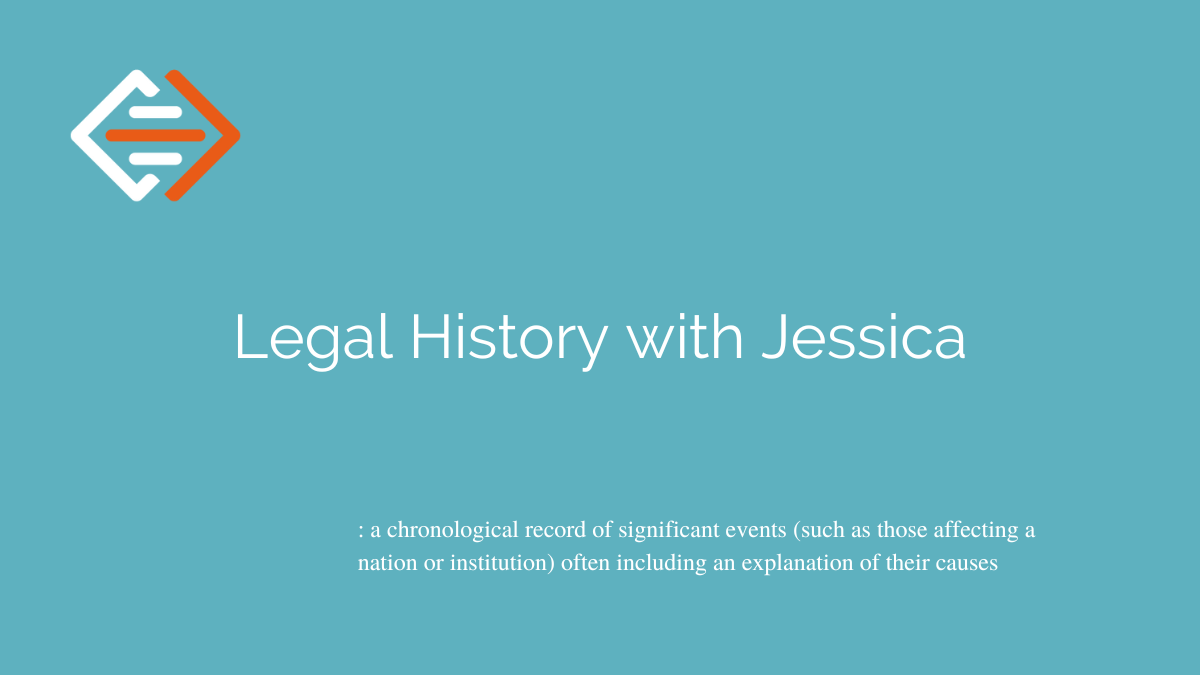 The Printer's Legal Woes
Many alive today, when they hear the name "Gutenberg," automatically think of the printing press or the Gutenberg Bible.  However, when Johannes Gensfleisch zur Laden zum Gutenberg was indebted and penniless when he died on February 3, 1468.  He never profited from his printing efforts and lived on a church-appointed stipend given in appreciation of his printing efforts.  But let's unpack all of that and start at the beginning.
The exact date of Gutenberg's birth is unknown.  Most historians place it sometime between 1394 and 1404.  The city of Mainz, Germany, where he was born and spent most of his life, declared the symbolic date of his birth to be June 24, 1400.  His family was well-placed in German society.  They were part of the merchant class and Gutenberg studied the trade of goldsmithing from his father, who worked at the local church's mint.  Around 1411, the family moved to Eltville am Rhein or Strasbourg.  Little is known of Gutenberg's life during this approximately fifteen-year period.  Gutenberg resurfaces in the annals of history in 1436, through a legal record indicating Ennel zur eiernen Tür sued Gutenberg for "breach of promise of marriage."  The verdict in that proceeding is unknown, though there is no record of Gutenberg being married.
After an unsuccessful venture selling polished mirrors advertised to capture the holy light from religious relics, Gutenberg turned his entrepreneurial efforts towards printing and the development of a movable printing press.  Gutenberg was likely unaware of the movable printing press that had been in use in China since 1040, though there are historical references to European explorers returning from China with materials printed on such a printing press.  During the development of his printing press, Gutenberg sought to keep his "invention" secret.  In 1438, as part of a legal proceeding in which the heirs of Gutenberg's business partner at the time sought to be named partners in the business venture in which the deceased had entered, court papers indicated Gutenberg and his business partners advanced money to a carpenter to build a printing press and to a goldsmith for printing materials.  Gutenberg won the lawsuit, but his "secret" was out.
Gutenberg resurfaced in Mainz in October 1448, borrowing money for his enterprise from his brother-in-law.  By 1450, Gutenberg's reputation had grown, and he partnered with wealthy financier Joannes Faustus.  Faustus loaned Gutenberg around 1600 guilders (approximately $96,000 in today's money) to complete his project.  Gutenberg hired Peter Schöffer as a printing assistant; Schöffer is believed to have designed early typefaces.  Around the same time, the movable type printing press churned out its first product, a poem.  Early works printed also included the 31-line Indulgence granted by Pope Nicholas V and issued in Erfurt, Germany, on October 22, 1454, and a Latin grammar book.  Realizing the profit to be made, Gutenberg moved on to a printed item that was very popular at the time – the Bible.
Gutenberg set out to print the Bible not only for profit, but to address the issues prevalent at the time with handwritten versions of the work; these handwritten versions would often have the individual writer's commentary on the subjects therein weaved into the text, which is likely part of the reason there are so many versions of the same verses of the Bible today.  Gutenberg and Schöffer worked from 1453-55 to create approximately 180 copies of the "42-line Bible," known today as the Gutenberg Bible.
But it wasn't known as the Gutenberg Bible upon its initial release – instead, shortly after the completion of the Bible's printing, Faustus decided he needed his investment back immediately, plus 6% interest.  He sued Gutenberg in the Mainz Archbishop's court, alleging Gutenberg misused the funds Faustus had advanced for the "project of the books."  The court ruled in favor of Faustus. The court granted control over Gutenberg's printing shop and half of the printed Bibles as payment.  When the Bibles were released, Faustus and Schöffer's names were listed as printers; Gutenberg's legacy would not be realized and publicized until approximately three hundred years after his death, when historian Johann David Kohler began researching documents from Gutenberg's time to prove Gutenberg's relationship to the famous Bible.  It would seem there was some recognition of Gutenberg's accomplishments at the time he was alive – on January 18, 1465, Mainz's Archbishop Adolph von Nassau named Gutenberg a "gentleman of the court," a title which provided a monetary stipend, an annual court outfit, 2180 liters of grain and 2000 liters of wine tax-free.
Of the original 180 copies of the Gutenberg Bible, only 49 still exist, some in various stages of completion.  The Library of Congress, Harvard University, Yale University, the University of Texas at Austin, and the Morgan Library and Museum in New York City all have complete copies of the work.  The closest copy is housed by the Lilly Library on IU's Bloomington campus; it is the other half of a copy on display in Mons, Belgium, and was donated by George Amos Poole, who was a founding member of Rand McNally and Company.
Sources:
https://www.thoughtco.com/johannes-gutenberg-and-the-printing-press-1991865
https://www.printmuseum.org/gutenberg-press
https://lithub.com/so-gutenberg-didnt-actually-invent-the-printing-press/
Lawyer by day, amateur historian by night. Casedo's Historian in Residence has a passion for researching the people behind the cases, notable firsts, and any little tidbit of knowledge with a legal angle. In addition to her historical pursuits, Jessica Barnett also enjoys spending time with her husband, three children, three cats, dog, and toad.
Casedo is used by academic researchers and law students to bring together their research around a single topic in order to make sense of it. It's a simple drag and drop interface which allows the user to treat their electronic documents like a paper record, with annotations and bookmarks while enhancing the user's ability to cross reference documents. Casedo is completely free to try for thirty days. If you want to find more tools and tricks for Academic Research, have a read of Academic Research – Tools and Tricks.