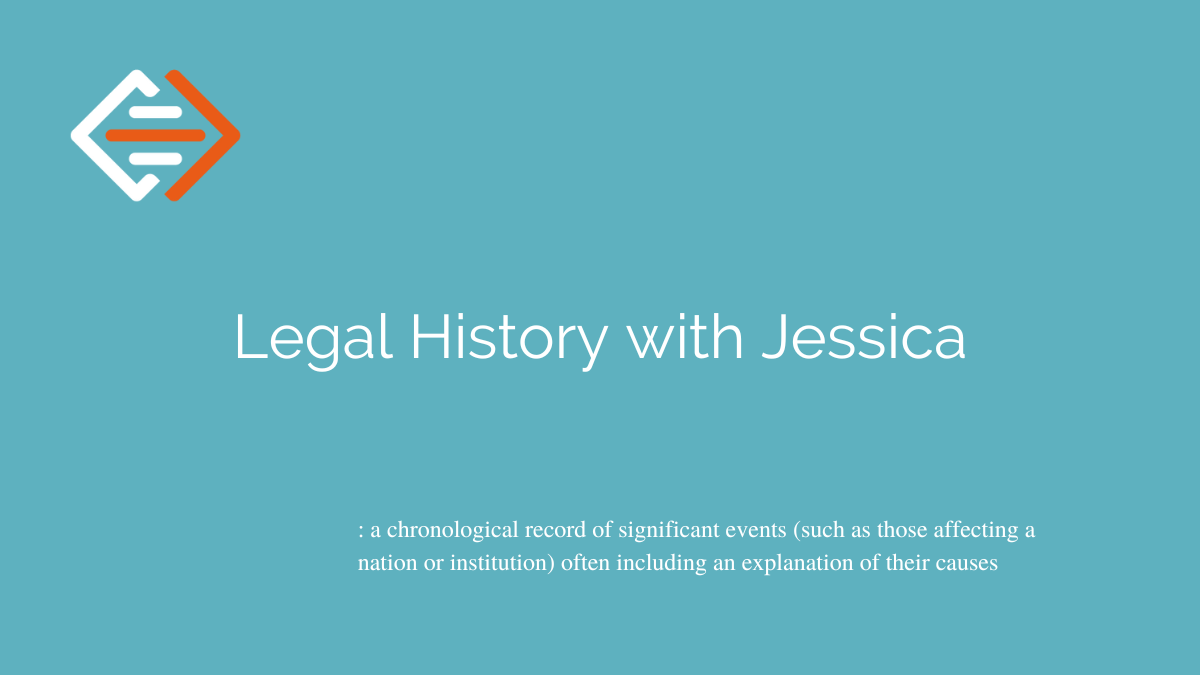 In Defense of Mobsters
On July 20, 1921, newly-minted attorney Jessie Levy took the bench in Marion County, Indiana, as the first female judge pro tem.  The event seemed mostly ceremonial, as she was on the bench for a mere thirty minutes and heard one case involving the theft of Mr. Rage Ajamie's pants by Mr. Bennett Cook.  While Cook denied he had stolen the pants, Judge Pro Tem Levy found him guilty because he wore the stolen pants to court on the day of his trial.  Judge Pro Tem Levy fined Cook $1 and sentenced him to thirty days in jail.  This is one of the first of many noteworthy events in the extraordinary life of Jessie Levy.
Jessie Levy was born on July 6, 1898, in Senjy, Poland, which was occupied by Russia at the time.  She and her family were Orthodox Jews and were persecuted under the Russian occupation, so they immigrated to the United States in 1904, eventually ending up in South Bend, Indiana.  Levy did well in school, but had to leave high school at sixteen so that she could get a job to support her family.  She began working as a typist for a local lawyer, which is likely when her love for the law was born.
Levy attended Indiana University Law School, then still in its relative infancy, and graduated on June 30, 1921, with an L.L.B.  Admission to practice law in the State of Indiana was going through a transition at the time.  As I noted in my piece about Bessie Eaglesfield (include link), the practice of admitting someone to the bar had been handled at the county level, with some counties being more amenable to admitting women than others.  These bar admissions did not require formal education, and instead were based on the good character of the applicant as attested by a practicing attorney, often someone the applicant had worked for in a type of legal apprenticeship.  When Levy was admitted to the Bar, the State had just started to require a degree to practice as an attorney.  This change in policy led to a sharply worded exchange in the Opinions section of the South Bend Tribune between Levy and another woman, Maxine Ryer, both of whom claimed to be the youngest female attorney in Indiana.  (Ryer was the younger of the two, but had not finished law school)
Soon after her graduation from law school, Levy partnered with John J. Shusler to form the firm of Levy & Shusler, a firm that would endure for the remainder of Levy and Shusler's lives.  The firm concentrated on estate work and divorces, though Levy soon realized that criminal defense work was much more lucrative.  In the late 1920s, Levy defended Earl "The Kid" Northern, a bank robber.  She was not successful in getting Northern acquitted, but she was able to spare him a sentence of life imprisonment by arguing the majority of his criminal history occurred while he was still a juvenile.  Northern introduced Levy to his younger sister, Mary Kinder, whom Levy would later defend against charges of what amounted to aiding and abetting a criminal based on evidence that Kinder drove the getaway car after a bank robbery involving her boyfriend, "Handsome" Harry Pierpont.
In 1934, Levy made headlines when she appeared as lead defense counsel for Pierpont, a member of John Dillinger's gang, during his trial for the murder of Sheriff Jesse Sarber of Lima, Ohio, who was shot when Pierpont and two others broke Dillinger out of jail in late 1933.  Levy was hired the night before the trial began because Pierpont's previous lawyer quit when he learned that he could not be both a defense attorney and a city solicitor.  Levy, along with another legal female trailblazer, Bess Robbins, defended not only Pierpont, but also two other men accused of the murder, Charles Makley and Russell Clark.  Court transcripts reveal Levy's wit and legal acumen; they also reveal that the prosecutor in the case was fairly misogynist, implying in statements that women didn't know the law like men did.  He also insinuated to the jury that Levy was there to seduce them or the judge.
Multiple eyewitnesses identified Pierpont as the triggerman in Sheriff Sarber's murder.  He was convicted and sentenced to the electric chair.  Makley and Clark were also convicted and sentenced to the electric chair and life imprisonment, respectively.  Levy appealed Pierpont's conviction, arguing (1) that he was unduly prejudiced when he was required to appear before the jury in shackles and (2) he was denied a public trial because anyone wishing to enter the courtroom had to first secure a pass "signed by either the judge or the Brigadier General in command of the militia, or both."  Pierpont v. State, 49 Ohio App. 77, 86 (1934).  The Ohio Court of Appeals rejected the arguments and affirmed Pierpont's conviction for murder.  Id. at 87.  Levy sought transfer to the Ohio Supreme Court, which was denied on September 26, 1934.  Pierpont v. State, 128 Ohio St. 572 (1934).
Levy was prepared to take the case to the United States Supreme Court, as she had been granted permission to appear before it in preparation for Pierpont's appeal on May 28, 1934, making her the first woman from Indiana to do so.  However, Pierpont requested that she cease further legal action, and allow him to accept his fate.  Four days prior to the Ohio Supreme Court decision, Pierpont and Makley attempted to escape the Ohio State Penitentiary using fake guns carved from soap and painted black with shoe polish.  They were unsuccessful in their endeavor; Makley was killed and Pierpont was severely wounded in the ensuing gunfire.  Pierpont had to be carried to the electric chair on October 17, 1934, as some of the bullets from the escape attempt had struck his spine, rendering him unable to walk.  It is reported that the Ohio court actually moved up his execution date so he could be executed in the electric chair before he died of his other injuries.
Levy returned to practice in Indianapolis and continued criminal defense work until 1940, when she developed a brain tumor.  Treatment was successful, but she decided to step back from the stressful world of criminal court and focus again on family and estate law.  A few years later, she married her law partner, Shusler, but she kept her maiden name professionally.  On December 19, 1969, Indianapolis Mayor Richard Lugar declared that day "Jessie Levy Shusler Day" to honor not only the achievements mentioned above, but also Levy's accomplishments as the first female librarian of the Indiana Supreme Court Library and the first President of the Indiana Women Lawyers Association.  Levy died on October 31, 1977, less than two years after the passing of her husband and lifelong law partner, and she is reported to have worked until the day she died.
Sources
https://dmtesta.com/jessie-levy
https://blog.history.in.gov/tag/jesse-levy/
https://crimereads.com/crime-fighting-broad-jessie-levy-defender-of-the-dillinger-gang/
Lawyer by day, amateur historian by night. Casedo's Historian in Residence has a passion for researching the people behind the cases, notable firsts, and any little tidbit of knowledge with a legal angle. In addition to her historical pursuits, Jessica Barnett also enjoys spending time with her husband, three children, three cats, dog, and toad.
Casedo is used by academic researchers and law students to bring together their research around a single topic in order to make sense of it. It's a simple drag and drop interface which allows the user to treat their electronic documents like a paper record, with annotations and bookmarks while enhancing the user's ability to cross reference documents. Casedo is completely free to try for thirty days. If you want to find more tools and tricks for Academic Research, have a read of Academic Research – Tools and Tricks.