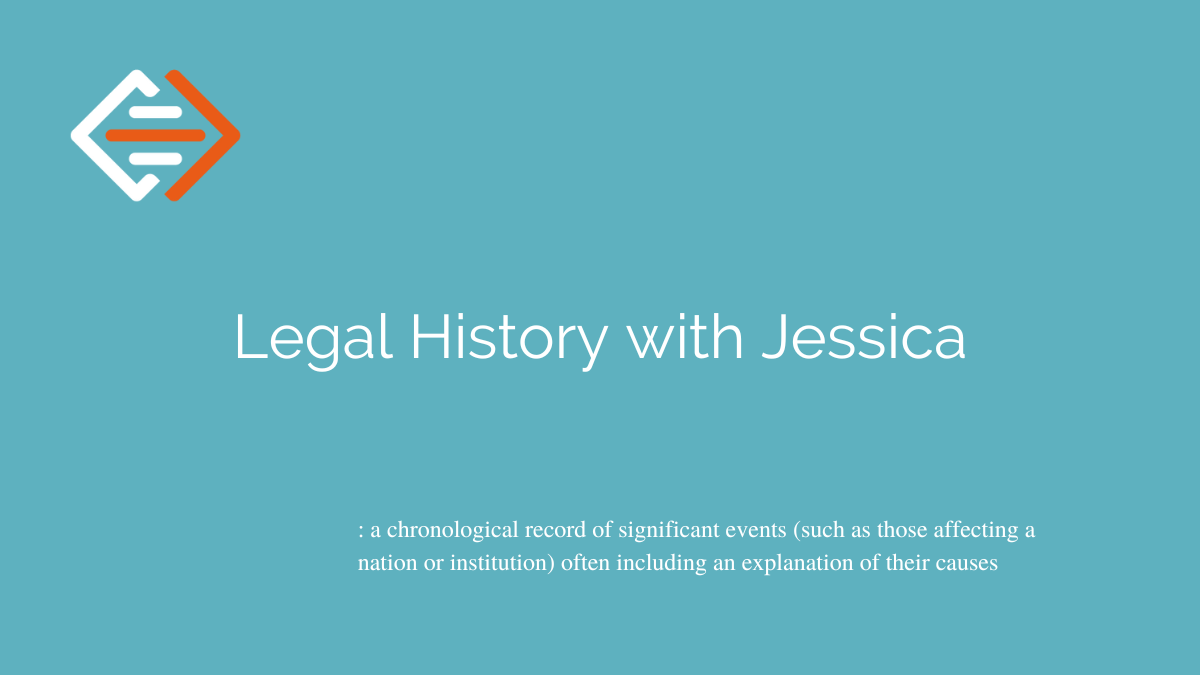 Counsel on Trial
On April 18, 1857, Clarence Darrow was born in Kinsman, Ohio.  The name is likely familiar, as Darrow was one of the most famous lawyers of his day.  In his early years as a lawyer, Darrow was involved in the Labor Movement, defending Labor leaders including Eugene V. Debs.  Later in his career, he defended the infamous Leopold and Loeb, wealthy teenagers (18 and 17, respectively) who were accused of killing Bobby Franks, reportedly for "pure love of excitement. . . [and] the satisfaction and the ego of putting something over."  While Darrow was unable to secure an acquittal for Leopold and Loeb, he was able to save them from hanging, with the judge sentencing both defendants to life plus 99 years imprisonment.
While the Leopold and Loeb case was called "The Trial of the Century," people mostly associate Darrow with his representation of John T. Scopes in what has been dubbed the Scopes Monkey Trial, a case involving a teacher who deigned to teach evolution in a state-funded school.  Scopes was ultimately convicted and fined $100.  However, his conviction was overturned on appeal based on a legal technicality, specifically that the judge was prohibited from issuing a fine over $50, and the determination of the amount of the fine levied should have gone to a jury.  The prosecutor, at the appellate court's urging, decided not to retry the case.
While Darrow was prolific and his defense tactics noteworthy, one alleged incident in 1911 almost ended Darrow's legal career.  On October 1, 1910, brothers John and James McNamara bombed the Los Angeles Times building, killing 21 people.  The McNamara Brothers were members of the Iron Workers Union, which from 1906 to 1911, was actively involved in over 100 bombings of U.S. Steel and American Bridge Company locations, in protest of the entities' union-busting.  The Times was known for its anti-union editorials written by Harrison Gray Otis, the first publisher of the Times, and was the only non-iron business targeted during the campaign of domestic terrorism.
Police arrested James on April 14, 1911, in Chicago.  On April 21, 1911, police raided the Iron Workers headquarters, located on Monument Circle in Indianapolis, and arrested John.  The American Federation of Labor, the national federation of labor unions, hired Darrow to defend the McNamara Brothers, as he had previously defended other key figures in the Labor Movement.  Before trial, Darrow tried in vain to secure a plea agreement for the defendants in an effort to spare their lives.  The prosecution refused any negotiation that did not include admissions of guilt in open court and lengthy prison sentences.
In preparation for trial, the defense hired Bert Franklin, a former police officer, to investigate potential members of the jury, which was a common practice then and is still used today.  However, Franklin went beyond the normal procedure of digging into a potential juror's background and instead identified two jurors who were experiencing financial troubles, Robert Bain and George Lockwood.  On October 6, 1911, Franklin gave Bain a "down payment" of $500 of a promised $4,000 to Bain in exchange for an acquittal vote.  Franklin then approached Lockwood with a similar proposal, prompting Lockwood to report the offer to police.  On November 28, 1911, police arrested Franklin as he met with Lockwood to pay the first installment of the promised bribe for Lockwood's acquittal vote.  Darrow was observed near the scene, though the reason for his presence is a mystery and multiple theories have circulated through the years.
Knowing the alleged bribery would taint any jury trial, Darrow advised the McNamara Brothers to enter guilty pleas.  They did so on December 1, 1911 – James pled guilty to murder for the Times bombing and John pled guilty to ordering a bombing subsequent to that of the Times at the Llewellyn Iron Works.  James was sentenced to life in prison and John was sentenced to fifteen years incarcerated.  While the McNamara Brothers' trial was over, Darrow's legal troubles had just begun.
In late January 1912, Franklin pled guilty to trying to bribe Lockwood in exchange for a lenient sentence – a $4000 fine.  Additionally, as part of his plea agreement, Franklin agreed to testify in front of a grand jury regarding Darrow's involvement in the bribery attempts.  On January 29, 1912, Darrow was indicted on two counts of bribery.  The first trial, commencing on May 15, 1912, for the charge of bribing Lockwood, ended in Darrow's acquittal.  The second trial, commencing on January 13, 1913, for the charge of bribing Bain, ended in a hung jury.  During his second trial for bribery, Darrow was alleged to have paid money to a detective working for the prosecution, but Darrow was never charged with a crime in connection with these allegations.  After the hung jury, the prosecutor ultimately decided not to retry Darrow in Bain's bribing, choosing instead to make a deal in which Darrow agreed to never practice law in California again.
Darrow agreed and returned to Chicago.  His time defending labor unions was over and Darrow turned to criminal defense work.   Darrow was staunchly opposed to the death penalty and worked to keep his clients from being executed.  After the aforementioned Scopes and Leopold/Loeb trials, Darrow went on to successfully defend Ossian and Henry Sweet, a black men accused to shooting a white man while defending their property in Detroit, and Thomas Massie, who was accused of killing a man who allegedly raped and beat Massie's wife (it may be interesting to note that not only was Massie acquitted, but the alleged rapists were also acquitted in a separate trial in which Darrow did not participate).
Darrow retired from the practice of law in 1932, with the Massie case being one of the last he defended.  He died on March 13, 1968.  He is depicted in the play and movie Inherit the Wind, a fictionalized account of the Scopes Monkey Trial.
Sources:
Clarence Darrow: Jury Tamperer?
This black doctor faced down an angry white mob storming his house – an was acquitted of murder
Lawyer by day, amateur historian by night. Casedo's Historian in Residence has a passion for researching the people behind the cases, notable firsts, and any little tidbit of knowledge with a legal angle. In addition to her historical pursuits, Jessica Barnett also enjoys spending time with her husband, three children, three cats, dog, and toad.
Casedo is used by Academic Researchers and Students to bring together their research around a single topic in order to make sense of it. It's simple drag and drop interface makes teasing out the threads of meaning brainwork rather than and exercise in document management. Casedo is completely free to try for thirty days. If you want to find more tools and tricks for Academic Research, have a read of Academic Research – Tools and Tricks.