Having enough chargeable work is the lifeblood of your practice, without that you won't have the successful career you wish for and may even have to diversify into other areas. Having a steady stream of work can be something many barristers dream of.
The ideal is that you are in demand, that you have lots of people who know your specialism, how good you are at getting the desired outcome for your end clients and who therefore want to work with you or refer work to you. The more people you have with satisfied outcomes, the more people there are to refer you to others who may need similar support to get justice.
So what can you do personally to help this positive cycle gain legs and support any PR work your clerks(s) might be doing? I want to focus on two key elements it is worth making time for:
So what can you do personally to help this positive cycle gain legs and support any PR work your clerks(s) might be doing? I want to focus on two key elements it is worth making time for:
1. LinkedIn – ignored by many barristers but it is your shop window. In professional life, it is the first port of call for many. If someone hears your name as a recommendation for example, they are likely to look you up on this platform.
Best of all it is free, it just needs some time investment to get it up and running and then some minimal time to maintain your profile and build your visibility. You can create your profile yourself or get an expert like me to get it done for you. To read more on the key areas to focus on within your profile, consult my article: LinkedIn profile update – why & what to work on.
You can also use LinkedIn to look up potential solicitors you want to meet, a lot simpler than going through individual law firm websites looking for types of solicitor. A new way to connect with potential clients that is worth experimenting with, if you haven't already.
2. Networking – ultimately building your network is one of the best ways to get a stream of work coming your way.
Having people who know, like and trust you and who therefore want to put work your way will lessen the dry spells.
The first step is to consider who you really need to know. For example, looking at which are the law firms who are doing most work in your area and who are the solicitors you therefore need to know.
The next step is to think about where you are most likely to meet the people you want to. Once you start going to events that are more commonplace then you get invited to unadvertised events which are the real gems. Relationships take time to build so patience is required and it isn't all about just going to the events, having a positive initial impact and starting the relationship but having a plan to stay in touch with relevant people after an event.
It's all about building your profile, people do buy people, it isn't just a vacuous cliché; using these two strategies will help you make a good start. They work together too. When you go to networking events, people are likely to look you up on LinkedIn afterwards so you want your profile to reinforce the person they have met. You can connect with those you meet so it becomes a professional address book for you. Just by people seeing you on LinkedIn now and then makes them remember you and feel somewhat connected to you, even if you haven't had a one-to-one discussion for a while. Therefore they are more likely to think of you when a relevant opportunity arises. Knowing who you need to know and having a clear strategy and plan are essential.
These are some initial simple thoughts and guidance. If you'd like to discuss further, please do contact me to discuss how I can help you have a steady stream of work and be continuously in demand.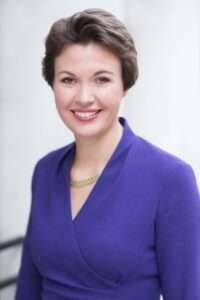 About the author
Joanna Gaudoin, Inside Out Image (https://insideoutimage.co.uk/) specialises in helping ambitious professionals and their organisations improve performance and achieve their goals. The legal sector is one of her specialisms.
She does this by helping them master and strategically use the business skills of Personal Impact and Relationship Management. These skills are required for professional success.
Before establishing Inside Out Image, Joanna worked in marketing and consultancy in large corporates. She understands the business world and its challenges. She now helps organisations and individuals understand how to succeed in it.
Why not read our 'What challenges will the Bar face in the next five years' article on Legal Futures? Click
HERE
to read the full text.
**Updated October 19, 2022**